Colorado Springs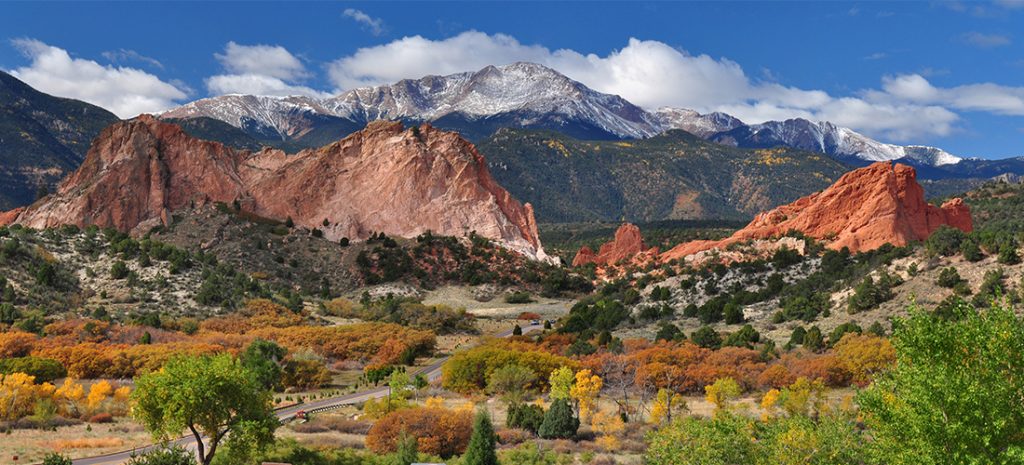 Named the #2 best place to live, and #1 most desirable place to live by US News and World Report.
The city sits at the foot of one of the nation's most famous landmarks, Pikes Peak – America's Mountain, whose summit inspired Katharine Lee Bates to pen the words to "America the Beautiful." Visitors ascend this 14,115-foot beauty accessible via car, bicycle, Pikes Peak Cog Railway trip or hike. Each summer, skilled professional drivers gather to race up the highway during The Broadmoor Pikes Peak International Hill Climb.
One of the country's most treasured parks, Garden of the Gods, is free to the public. The impressive red rock formations draw those with smartphones and cameras to capture a perfect shot of the rocks that frame snow-capped Pikes Peak. Travelers can enjoy climbing, hiking, cycling and even horseback riding.
With more than 55 area attractions, there's much more to capture visitors' attention. Choose from places like the Colorado Springs Pioneers Museum and the Money Museum to Cheyenne Mountain Zoo and The Broadmoor Seven Falls.
Home to the U.S. Olympic Committee, Colorado Springs Olympic Training Center and soon-to-open U.S. Olympic Museum, visitors can watch world-class athletes in action. Another worthy stop is the U.S. Air Force Academy an elite university and military training academy just north of the city. Don't miss the abundance of scenic trails, treks and open spaces for the perfect breath of fresh air.
Colorado Springs Fine Dining

THE BROADMOOR – The beautiful and historic BROADMOOR offers 20 restaurants, lounges and cafes with something to suit every taste. From light fare, Espresso to al fresco dining, family friendly, and fine dining in the award-winning Penrose Room.
CLIFF HOUSE AT PIKES PEAK –The Cliff House at Pikes Peak has gained national renown as one of Colorado's premier dining destinations. We are proud recipients of AAA Four-Diamond Award (since 2001,) Wine Spectator's "Best of Award of Excellence" (Since 2001,) and the DiRoNA Award (Since 2002.)
THE WINERY AT PIKES PEAK – The Wines of Colorado has a new property to debut – The Winery of Pikes Peak! Located in the historic Community Center of Cascade we have something special for you. Stop by our tasting room or set up a special event in our excellent event space!
CRYSTAL PARK CANTINA – Easy to find in Historic Manitou Springs, The Crystal Park Cantina offers amazing margaritas, award winning Del Norte Mexican-Style Beers and fresh Tex-Mex creations in a warm, contemporary, friendly atmosphere. Located at the old Mission Bell Inn.
THE WAREHOUSE RESTAURANT AND GALLERY – We proudly offer a full aesthetic experience. With excellent food, wines, beers, and visual arts, we provide a unique place to dine or host private parties. The Warehouse offers upscale, authentic cuisine that is delectable and also supports Colorado farmers, ranchers, growers, and promotes local sustainability.
THE FAMOUS – Think late-night Chicago steakhouse: polished booths that enclose years of secrets, big slabs of aromatic prime steaks, sparkly cocktail glasses. Voted Best Overall Restaurant – 2006 Best of Haute Cuisine, Colorado Springs Independent.
THE MELTING POT – A favorite among locals and tourist, The Melting Pot of Colorado Springs is conveniently located downtown near the Antler's Hilton Hotel and fun nearby shops. Our underground location of our restaurant gives a romantic feel for couples and a fun atmosphere for friends and families.
JOSEPH'S FINE DINING – Using his history in fine dining and his culinary expertise, owner Joseph Freyre has created a menu where he mixes the world of old table side flambé cooking with nouveau cuisine sure to suit the tastes of even the most discriminating diner.
PEPPER TREE RESTAURANT – Elegant dining over-looking the downtown skyline. Extensive wine list, tableside prepared house specialties intimate atmosphere. Newly remodeled. A tradition since 1983. Continental cuisine.
PRIME25 – Prime25 is a modern interpretation of the classic steakhouse, with dining and sipping experience. Our open kitchen serves U.S.D.A prime aged beef with bone in selection, and seafood is flown in daily to ensure the highest quality of exceptional flavors.
BRIARHURST MANOR ESTATES – Located in Manitou Springs, just west of Colorado Springs, the Briarhurst Manor ranks as one of the 50 Most Romantic Restaurants in the USA. A breath-taking manor house restaurant and event venue steeped in history and comfort.
CARLOS' BISTRO – When you enter Carlos' Bistro, be warned. Resign yourself to be pampered and tempted with the finest array of cuisine Colorado Springs has to offer.
RABBIT HOLE – Situated in an upscale, underground location, The Rabbit Hole has quickly become a downtown hot spot for dinner and drinks.
MOUNTAIN VIEW RESTAURANT (CHEYENNE MOUNTAIN RESORT) – This is our signature restaurant with wood beams, natural light, high ceilings, and a beautiful view of the mountains. Try our award-winning Champagne.

Colorado Springs Airport
The airport is located just 12 miles from downtown Colorado Springs and conveniently located just off Interstate-25 with four-lane access from exit 135. You can reach the Colorado Springs Airport on a direct or one-stop flight from anywhere in the US. The terminal is easy to navigate and offers a quicker airport experience. Rental cars can usually be returned to the Car Rental area of the airport parking lot. The terminal offers free WIFI, a newsstand, several restaurants and a premier lounge. And, if Colorado Springs Airport doesn't have a flight you need, we are just an hour from Denver International Airport.
Popular Neighborhoods
Broadmoor – Home to some of the city's most well to do families, this area mostly consists of large, historic homes and modern-day mansions. Home to the city's prestigious Broadmoor Hotel and Resort, residents have easy access to a number of upscale amenities including private schools, country clubs, and meeting areas. Residents include big-business managers, doctors, and lawyers. Homes in this area range from luxury estates nestled in the hills to more affordable properties found near Broadmoor Valley Road and Broadmoor Bluffs Drive. The fantastic golf courses and plenty of green space, make this a truly tranquil community with an abundance of outdoor activities. There are local shops and dining options throughout, with big box stores close by along Highway 115.
WHY IT'S GREAT


Crime is exceptionally low in this area
Large homes with manicured yards
Beautiful streetscape
Best Neighborhoods: Broadmoor Heights & Broadmoor Bluffs

Briargate – No matter who you ask, Briargate is almost always a top pick for the best neighborhood in the city, and best of all, it's not exclusive to anyone. Master-planned, close to amenities, and minutes from the US Air Force Academy, homes in Briargate are as convenient as they are affordable. Here you can easily find a spacious home for a much more reasonable price than many places in the country, let alone the city, and since the area has been expertly crafted to maximize lifestyle, it's an unbeatable value for families. The amenities in this community are fantastic! Chapel Hills Mall has just about everything you could want for your shopping and dining needs.
WHY IT'S GREAT


Large and newer homes with ample backyards
Several nearby parks
Traffic-calmed streets and several cul-de-sacs

Northgate – The ideal location of Northgate affords residents the ability to take full advantage of the exhilarating Colorado outdoors, within minutes of home. Outdoorsmen of all skill levels will enjoy the wide variety of hiking, biking, and equestrian trails close to home. Plenty of convenient outdoor adventure can be found at Mount Herman, Spruce Mountain, Fox Run Park, or the new Santa Fe Trail; which runs through Palmer Lake, Monument and finally joins with the Pikes Peak Greenway Trail which runs all the way to Colorado Springs. Being nestled near Briargate, Black Forest, and Monument provides many options for shopping and relaxing as well.Golfers also have several venues to choose from, including nearby Gleneagle Golf Club, the award winning Golf Club at Flying Horse, Kings Deer Golf Club andMonument Hill Country Club.
WHY IT'S GREAT




Elegant and newer homes




Multiple country/golf clubs




Gorgeous mountain views




Best Neighborhoods: Flying Horse & Northgate Estates



Monument/Tri-Lakes – The charming towns of Monument, Palmer Lake and Woodmoor are at the north edge of El Paso County, situated at the high point between Denver and Colorado Springs known as the Palmer Divide. Adjacent to Pike National Forest, just north of the United States Air Force Academy, Monument Colorado and the Tri-Lakes area is bordered by Black Forest on the east, the Gleneagle community on the southeast and County Line Road on the north. Only 40 miles from Denver, 20 miles north of downtown Colorado Springs and approximately five miles north of the Air Force Academy, the Tri-Lakes area is perfectly situated for residents who desire the diversity of mountain living along with easy access to Colorado's main cities via I-25.
The Tri-Lakes area has miles of great hiking, biking and wildlife watching paths for your outdoor enjoyment. The United States Air Force Academy is a wonder to behold with the most popular stops being the Cadet Chapel, Visitor Center and Falcon Stadium. The New Santa Fe Trail runs parallel to I-25 and takes you through this beautiful section of the Pikes Peak region. Find great attractions and activities to enjoy in Monument here.
WHY IT'S GREAT


Privacy and peaceful living
Historical downtown
Beautiful scenery and views
Best Neighborhoods: Forest Lakes, Woodmoor

If you would like even more information about Colorado Springs, contact me today!